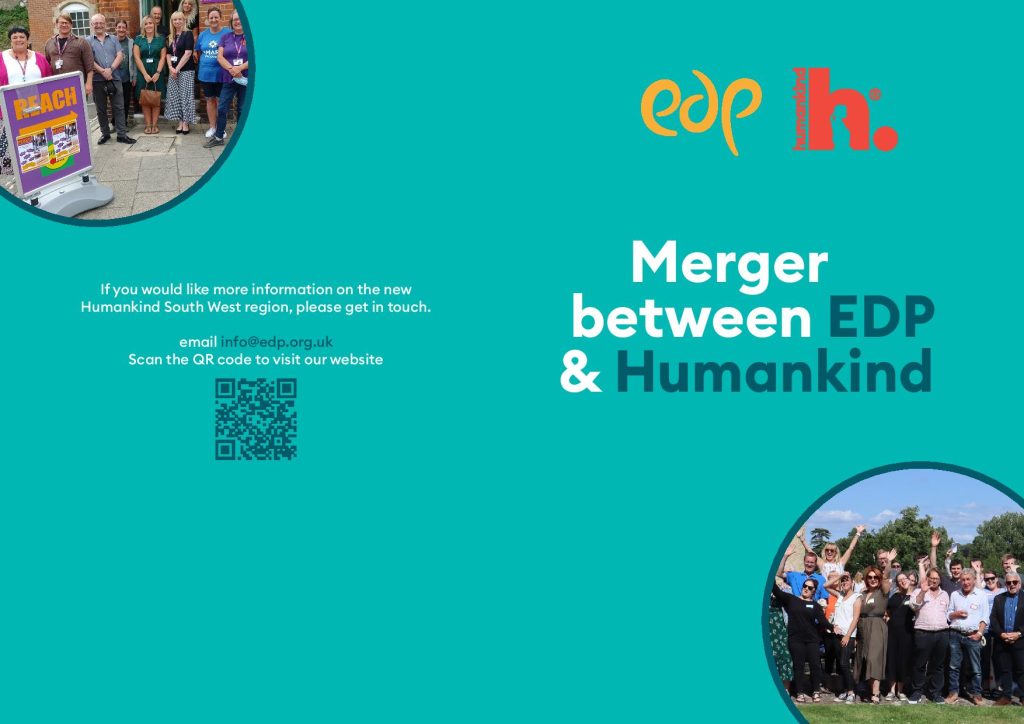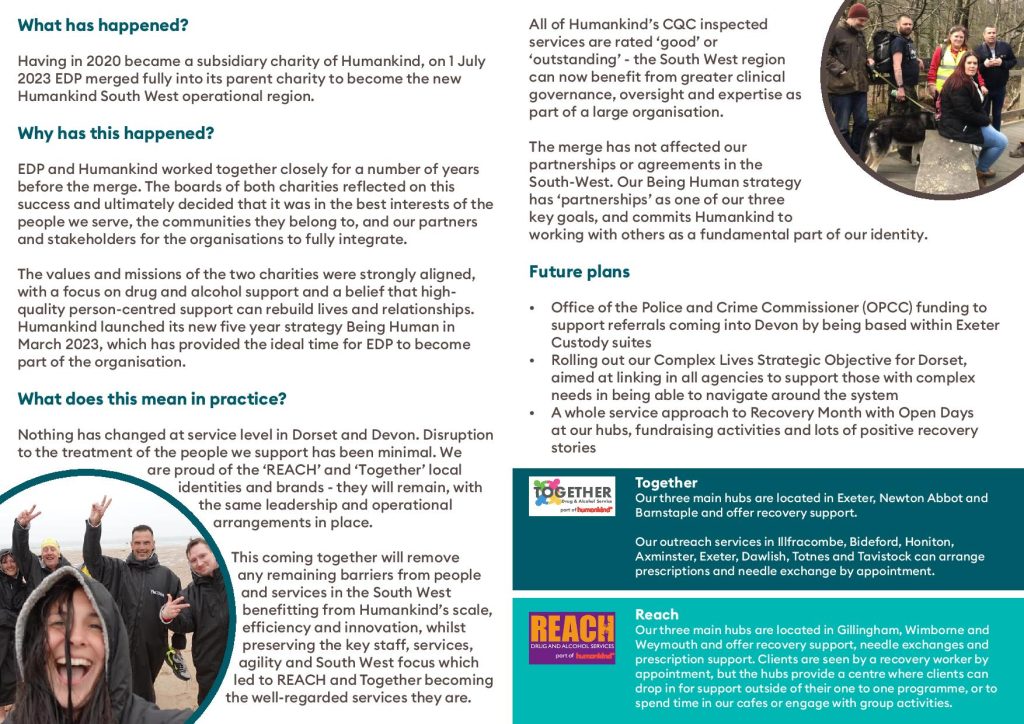 What has happened?
Having in 2020 became a subsidiary charity of Humankind, on 1 July 2023 EDP merged fully into its parent charity to become the new Humankind South West operational region. 
Why has this happened?
EDP and Humankind worked together closely for a number of years before the merge. The boards of both charities reflected on this success and ultimately decided that it was in the best interests of the people we serve, the communities they belong to, and our partners and stakeholders for the organisations to fully integrate. 
The values and missions of the two charities were strongly aligned, with a focus on drug and alcohol support and a belief that high-quality person-centred support can rebuild lives and relationships. Humankind launched its new five year strategy Being Human in March 2023, which has provided the ideal time for EDP to become part of the organisation. 
What does this mean in practice?
Nothing has changed at service level in Dorset and Devon. Disruption to the treatment of the people we support has been minimal. We are proud of the 'REACH' and 'Together' local identities and brands – they will remain, with the same leadership and operational arrangements in place. 
This coming together will remove any remaining barriers from people and services in the South West benefitting from Humankind's scale, efficiency and innovation, whilst preserving the key staff, services, agility and South West focus which led to REACH and Together becoming the well-regarded services they are. 
All of Humankind's CQC inspected services are rated 'good' or 'outstanding' – the South West region can now benefit from greater clinical governance, oversight and expertise as part of a large organisation. 
The merge has not affected our partnerships or agreements in the South-West. Our Being Human strategy has 'partnerships' as one of our three key goals, and commits Humankind to working with others as a fundamental part of our identity. 
Future plans
Office of the Police and Crime Commissioner (OPCC) funding to support referrals coming into Devon by being based within Exeter Custody suites
Rolling out our Complex Lives Strategic Objective for Dorset, aimed at linking in all agencies to support those with complex needs in being able to navigate around the system
A whole service approach to Recovery Month with Open Days at our hubs, fundraising activities and lots of positive recovery stories